Interview with DOTECH's CEO Choi Deuknam -Today Energy Daily Newspaper

[Interview] CEO of DOTECH Inc., Choi Deuknam
"A reduction of energy means a reduction of cost"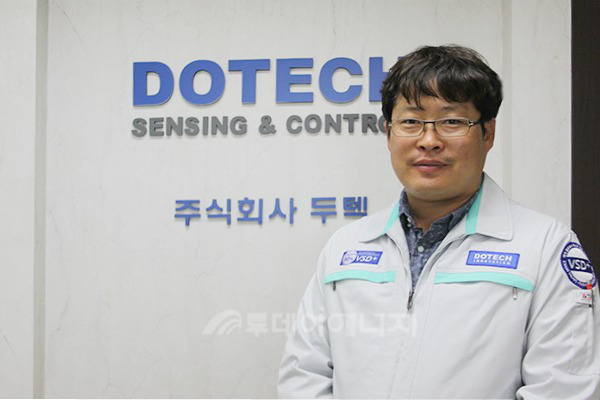 [Today Energy – Sihyeon Hong] Air compressors, which are the core of manufacturing facilities, consume 30% of energy of the plant's entire energy costs. The cost of energy can be varied depends on what kind of air compressor you may use.

CEO Choi Deuknam from DOTECH Inc. suggests a solution for energy reduction who leads industrial machinery control technology.


▲ DOTECH is..?
DOTECH is a manufacturing company for refrigeration & air condition and controllers & sensors for environmental measurement as follows: refrigerator, thermos-hygrostat, conditioning equipment, air compressor, heat pump, cleanroom…etc.

DOTECH supplies over 200 products in domestic market as well as imports the products over 40 countries.


▲ Talking about energy-saving controllers
Industrial energy usage was not a big concern for energy consumption rate in industrial machinery field in a few years back since it was relatively cheaper than general energy usage. However, excessive energy consumption and destruction of environment became global concerns, industrial equipment market started to take interest on energy saving devices.

DOTECH has been responding to and dealing with market demand in aspect of energy saving from long time. The products developed in recent years have been manufactured based on DOTECH's unique precision control technique as focused onto energy-saving.

Especially air compressor energy saving controller VSD+ series is getting a great attention amongst DOTECH's other energy saving type controllers. Air compressor requires and consumes a lots of power in general manufacturing facilities.

The key point of this high efficiency air compressors is inventor-based compressor control as well as qualified power saving technique which has been rapidly increasing its use in a field of refrigeration and air conditioning.


▲ About VSD+ series
The number of revolutions of air compressor motor can be appropriately adjusted to the amount of compressed air by controlling the inverter in order to save a large amount of power consumption.

The VSD+ series is an external control device which converts control method to inverter control based VSD+ method (Y - Δ) to maximize energy efficiency by installing to a general industrial air compressor. Most existing air compressor cannot help consuming excessive energy, since the speed of internal motor is uncontrollable and to maintain start up state which drives output almost 100% regardless of air consumption. However, the efficiency of the equipment can be improved significantly by adjusting the number of revolutions of the compressor according to the real-time air consumption by installing the VSD+ onto the general existing equipment.

Especially, it is expected 30 ~ 40% of energy reduction in the case where a long period of unloading or/and no-load running crosses frequently. If the VSD+ is applied to 100 horsepower air compressor and ran 8,000 hours, 19 million won of annual electricity cost can be saved and 19,008 tons of CO2 can be reduced within one year (10,000kW, 60% load rate, 120 won). By eliminating unnecessary operation of the equipment, it is able to reduce electricity cost, extend life spans of major parts and decrease amount of CO2. In general, the installation charge can be covered with a saved energy reduction within 1~2 years.


▲ Values of DOTECH and VSD+
DOTECH's one of most strengths is keeping reliability with customers. There is a repayment service if the reduction of energy fails as DOTECH promises. This provides accurate data analysis of energy consumption and optimized environment for production.

The biggest advantage of installing VSD+ onto new type equipment with inverter based compare to old type equipment is, replacement of the equipment is not needed at all. Losses of price of product and various parts can occur when the old type equipment replaces with new type model because of energy efficiency problems.

The VSD+ series is an innovative solution for saving purchase cost and its loss expense by maximizing level of energy efficiency to the level of new equipment while maintaining existing facilities. The development of VSD+ series means a lot since more than 80% of the domestic manufacturing sites operate the old equipment.